Be Still and Know that I am God
This beautiful statement is a Bible verse, Psalm 46:10. It is in the stillness that we can experience God's presence.
Nature is a great way to experience God's presence. Looking at a breath-taking sunset, a snow-capped mountain, or a deer looking back at you in the woods, are all instances when we can feel a connection to God and the oneness of all creation.

It's hard to be still in a world that calls us to stress and strive and to be constantly busy. But it is in the stillness that we can know God at a deeper level. It is in the stillness that we can experience the peace that surpasses all understanding.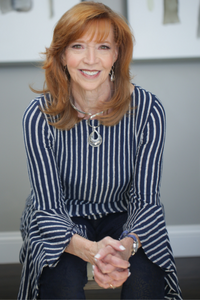 WELCOME
I'm Jackie Trottmann and I would love to be your guide to guide you to a life filled with joy and flow by experiencing a deeper relationship with God.

For most of my life, I did not live with joy and flow! I held marketing and sales positions in the corporate world for three decades. There I was rewarded for the stressing and striving that our Western culture promotes.

But the stress was becoming unbearable. I was unaware of a mind, body, spirit connection. My soul began to ask the question, "Is this all there is?"
Instead of exploring that question, I medicated to numb the spiritual pain with busyness and alcohol while stuffing down my feelings with food. In the process, I developed an eating disorder. I was unaware of that too.

On the outside I was wildly successful. But I finally became aware that inside, I was spiritually bankrupt. I was living a fragmented life, not one of wholeness. I didn't nurture my body, mind, and spirit.

That has all changed as a result of going within to find healing and joy by deepening my relationship with God and allowing God to love me, lead me, and guide me. I want the same for you!

The process I followed was first to be still. As a result of that stillness, it came to my awareness the amount of emotional, spiritual, and even physical weight I was carrying. Because of this awareness, I was able to let it go. Finally, I then trusted God, trusted myself, and trusted others. Now I can live life with joy, flow, and freedom.

How Do You Deepen Your Relationship with God?
You do that through spiritual practices, like prayer, meditation, meditating on Scripture, and contemplative prayer.

I created a free, self-guided mini course called Be Present with God covering these four spiritual practices through short videos, audios, and transcripts.

You will find other resources here and on my blogs: https://GuidedChristianMeditation.com and https://www.JackieTrottmann.com.

By deepening your relationship with God, you will transform your anxiety into peace, your fear into courage, and any self-condemnation into self-acceptance and self-love. I hope that you will join me in living a life with joy, flow, and freedom.

FREE Mini Course on Four Spiritual Practices
This is a self-guided course with videos, audios, and transcripts guiding you through four spiritual practices of prayer, meditation, Lectio Divina (meditating on Scripture), and contemplative prayer.
Just put in your first name and best email below and hit the Get Access button to receive the Be Present with God course today.